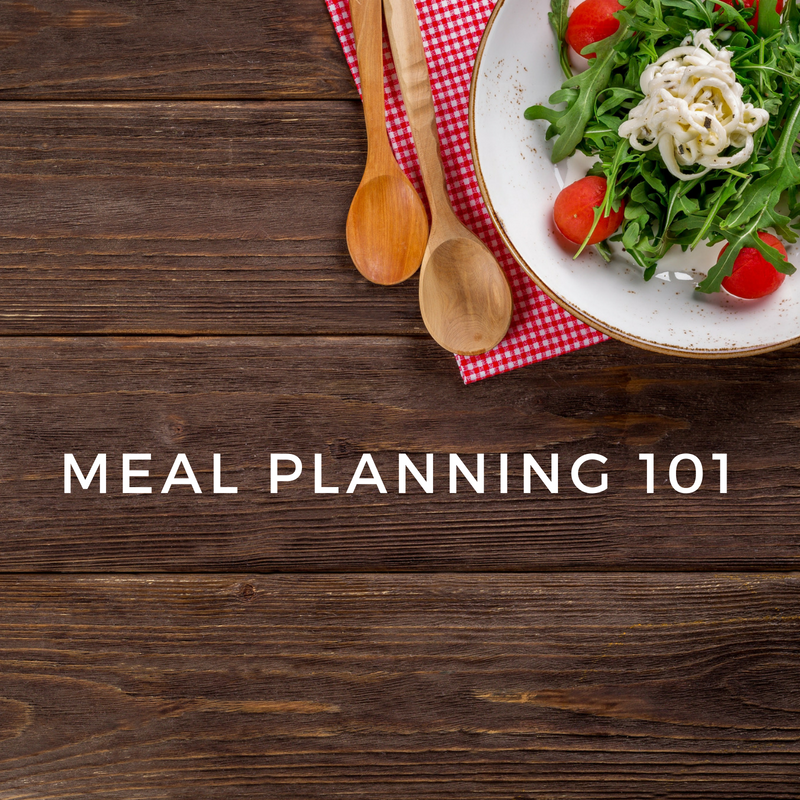 Meal planning. Blech. I feel like meals, specifically dinners are the bane of most people's existence.  Over the years I've come up with a few strategies to make this process a little more manageable or at least routine and not quite as difficult.
Freezer meals
I cannot say enough about taking an afternoon and bustin' out some freezer meals (…so stay tuned…).  One of my favorite go to recipes is this easy & tasty bolognese sauce.  One batch of sauce can be used for many different meals-spaghetti, meatball subs or casserole, chicken Parmesan…the possibilities are endless.  I also enjoy baking muffins and freezing them two at a time for an easy breakfast.  Freezer meals are fantastic to pop into a crock pot in the morning or to use when you know you need an easy dinner (say when you have a newborn…).  My mom and I made over 20 meals before I had my last baby.  We've been rationing them and are finishing up our last meals just now two months later!
Menu Inspiration
Each week at the top of my grocery list I write out the days of the week.
-If we have dinner plans for any of the days already then I add it.  Do the easy stuff first!
-Think about what you have scheduled each evening.  For example, I know on Tuesdays I'm going to need a quick & light dinner before I rush E off to dance. Tuesdays are usually a crock pot day.
-Sometimes plans change midweek and I'll have a dinner idea leftover from the week before to use again.
-After this I refer to my weekly grocery ad for further inspiration based on sales.  I usually still need a day or two covered after that and I refer to my Pinterest page.  If all else fails I tell my husband to give me an idea-mac & cheese with hot dogs anyone?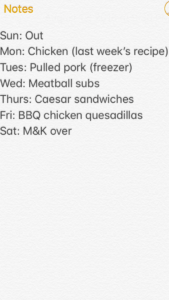 Accountability
After all of the planning & shopping it is so easy to say forget it and order a pizza! We certainly still have these days at my house but they are fewer and farther between.  One way I try to combat it is to post the week's menu right on the refrigerator.  I have a dry erase weekly calendar right on the front of the fridge-affiliate link here:
I can post each main course & side for the week.  This way my kids know what's coming (for better or worse) and my husband knows what we're supposed to eat for the days he gets home first. #teamwork
Leftovers!
What to do with all those leftovers?  We've recently started smorgasbord day and my kids think its the best thing ever.  This is a Friday or Saturday dinner so we're able to use all of the leftovers from the past week.  I clear out everything from the fridge onto the counter and the kids get to go down the buffet line choosing whatever they want.  I usually pop a frozen veggie in the microwave too. If their plates are looking light I throw a yogurt or applesauce at them and everyone is happy.  I'm happy that food isn't going to waste and the kids think they're in charge-win/win!
How do you handle meal planning?  I'd love to hear other tips and strategies, comment below!